Have you received an invitation letter from Nextdoor?
Learn more about the recent invitation letter you received in the post, including who sent you the invitation, what Nextdoor is all about and how you can join.
Nextdoor is the largest neighbourhood website and app helping neighbours across the UK to build stronger, safer and happier local communities. Whether you're looking for a plumber, want to join a walking group, or trying to find the best pizza restaurant, Nextdoor is the best place to get connected, stay informed and get things done.
We believe that by bringing neighbors together, we can cultivate a kinder world where everyone has a neighborhood they can rely on.
What is this invitation letter I recently received from Nextdoor?
If you have received an invitation letter in the post like the one pictured below, this was sent to you by Nextdoor on behalf of one of your neighbours. Thriving communities are built by people who come together to create stronger, safer, and happier neighbourhoods. This starts by reaching out and connecting with your neighbours - both those you know, and those you don't.
That's why we developed free neighbour-to-neighbour invitations. Each week, thousands of Nextdoor neighbours choose to send invitations to their neighbours as an easy and trusted way to build community in their local neighbourhoods. Every single invitation that is sent by Nextdoor on behalf of our neighbour is sent with the neighbours permission and fulfilled by the Royal Mail.
I don't know the neighbour on my invitation letter, is this letter really from them?
Yes, the letter you received is from a neighbour who has chosen to invite your household to Nextdoor. The invitation letter was sent on your neighbour's behalf, with their permission, and has been delivered to you by the Royal Mail. Because every neighbour must confirm their address to become a member.
Inviting your neighbours to join Nextdoor
When you join your local Nextdoor neighbourhood, you have the opportunity to invite your neighbours to sign-up as well by sending them invitation letters in the post. Neighbours have embraced invitation letters as an important community building tool.
We've recently heard from some neighbours who have found the invitation letter process a bit unclear. We take neighbour feedback very seriously and have therefore updated our invitation letter process to ensure it's both easy and clear. You now have the option to either press a button to Confirm the invitation sends or choose to "opt-out" by pressing the "Not now" button. Neighbours who chose to opt-in to mailed invitations are asked to confirm and also have the opportunity to opt out at this stage. We want to remind all neighbours that it is entirely your choice to send invitation letters.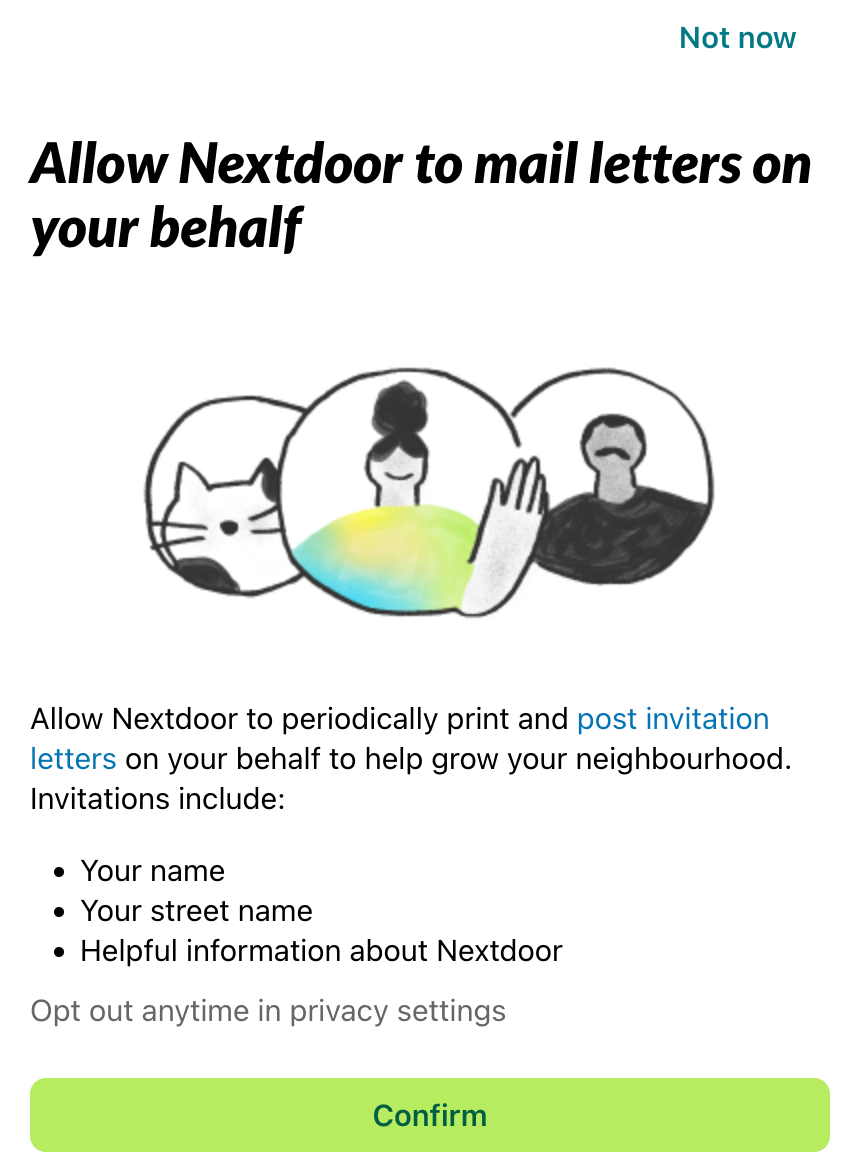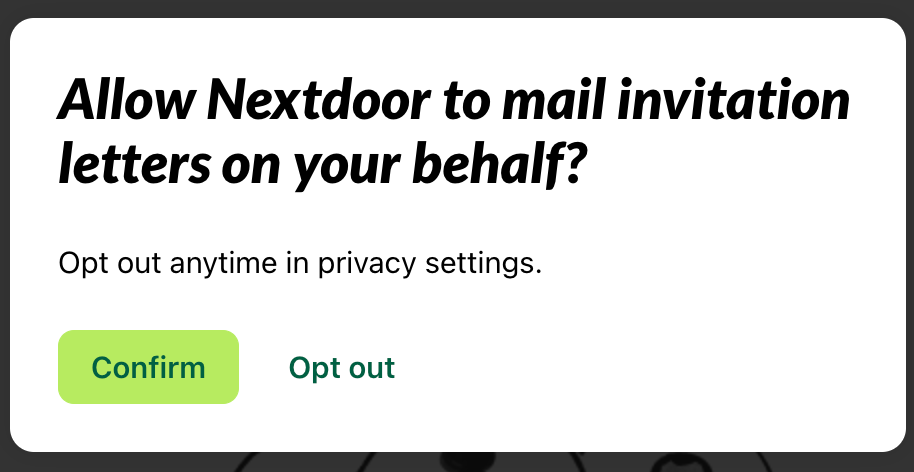 An invitation you can trust
Nextdoor is built on trust. By requiring neighbours to use their real name and confirmed address, we can ensure that all conversations and interactions on the platform are between you and your real neighbours. Invitation letters can only be sent from neighbours who have confirmed their address every single invitation is sent by neighbours' opting in to send. We work closely with the Royal Mail who deliver the invitations to neighbours.
Nextdoor also works closely with police forces and local councils across the UK, who use the platform to provide residents with the latest crime and safety updates, scam prevention advice and news in their area.
What our neighbours are saying...
Martin Chambers from Kent, one of the thousands of Nextdoor members who regularly sends out invitation letters to connect with new neighbours, finds them really helpful for building community in his neighbourhood.
"Being able to send out postal invites to my neighbours has been a really great way for me to make new connections and strengthen my community. I use Nextdoor for a number of purposes, but one of the main uses is to keep my neighbours in the know with crime and safety updates as part of our Neighbourhood Watch scheme. If it wasn't for the free invitations, I wouldn't have been able to grow my Nextdoor neighbourhood to where it is today; where one out of two households are on Nextdoor and growing every day."
Want to sign-up? Keen to find out more? Have some feedback for us?
At Nextdoor we strive to provide a platform that helps you reach out to those around you to build stronger, real-world connections in your local community. In the words of one of our members: "you might just meet someone wonderful on Nextdoor."
If you'd like to get involved and join your local neighbourhood, sign up today!
We value all feedback and always encourage our members and their neighbours to contact us directly with any questions. If you would like to get in touch about our neighbour-to-neighbour invite process contact us here.
If, for any reason, you don't want to receive direct marketing materials from Nextdoor, you can opt out by getting in touch with our support team here.